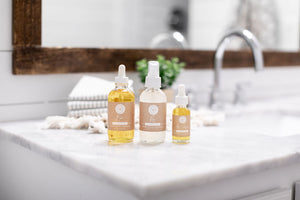 Face Care Bundle **Updated Version**
Regular price
$ 27.00
$ 0.00
Face Care Bundle

Choose from two options : 

Balancing Bundle : 

Cleansing Oil, Thyme Infused Toner, Balancing Facial Serum 

Mini Option will include 1oz cleansing oil, 1oz toner and .5oz serum
Regular Size Option will include - 4oz cleansing oil, 4oz toner & 1oz serum


Age Defying Bundle : 
Cleansing Oil, Rose Infused Toner, Age Defying Facial Serum 

Mini Option will include 1oz cleansing oil, 1oz toner and .5oz serum
Regular Size Option will include - 4oz cleansing oil, 4oz toner & 1oz serum


 __________________________________________________________

Educate yourself on essential oil safety and holistic treatments before using Whole Love Organics products.

__________________________________________________________

For external use only. Note: The above statements have not been evaluated by the Food and Drug Administration. This product is not intended to treat, cure, diagnose or prevent any disease.
Love the oils
Love the cleaning oil and the face oil love using the natural products Still not sure about the tonic haven't used alcohol in my tonic in a few years. But will give it a little while to better evaluate
Great products!
I ordered the set because I was all out of the cleansing oil and I can't recommend it enough!!
Amazing
I love everything. I am always looking for cleaner products. I've been using BC and will continue to use some of their products but am definitely switching to your facial oil cleaner, toner and facial oil! So good and such few ingredients
---
More from this collection